In times of loss, honoring the memory of a loved one is an important part of the grieving process. Memorial cards serve as a beautiful tribute, allowing us to cherish the life and legacy of those we have lost. If you are in Ireland and seeking the best quality memorial cards, you have come to the right place. In this article, we will guide you on how to order the finest memorial cards in Ireland, ensuring a meaningful and lasting tribute for your loved one.
Remembering Our Loved Ones
Losing a loved one is an incredibly difficult experience. As we navigate through grief, finding ways to honor their memory becomes a significant part of the healing process. Memorial cards provide a tangible keepsake that can be cherished by family and friends, offering a lasting tribute to the life and legacy of the departed.
Why Memorial Cards Matter
Memorial cards hold a special place in our hearts as they serve as a physical reminder of our loved ones. These cards often include a photograph of the deceased, along with their name, dates of birth and passing, and a meaningful quote or verse. They can be customized to reflect the individual's personality, interests, and values, making each card unique and personal.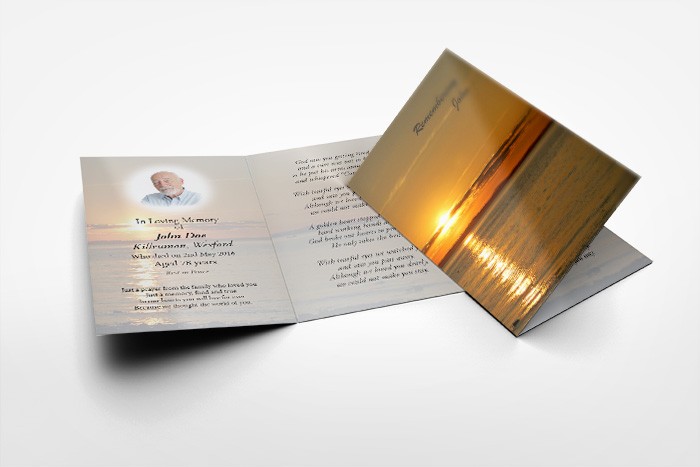 Choosing the Right Design
When ordering memorial cards in Ireland, it is important to choose a design that resonates with the spirit of your loved one. Whether you prefer a traditional or contemporary style, there are various options available to suit your preferences. Consider elements such as colors, fonts, and themes that reflect the personality and interests of the departed.
Personalization Options
To make the memorial cards truly special, personalization options play a crucial role. Look for a service that allows you to customize the design with your own photographs, artwork, or verses. This way, you can create a card that encapsulates the essence of your loved one's life and brings comfort to those who receive it. In FamilyCards.ie you can customize your card using specially designed tool, which allows you upload your own text and photos.
High-Quality Printing
To ensure that the memorial cards preserve the memory of your loved one for years to come, it is essential to choose a service that offers high-quality printing. The printing should be crisp and clear, with attention to detail and vibrant colors. This will elevate the overall appearance of the card and make it a cherished keepsake.
FamilyCards.ie cooperates with one of the best printer company in South East of Ireland, family run business based in Wexford town – Practical Printers. We take pride in the exceptional quality of our cards, and thus far, we have received overwhelmingly positive feedback from our customers, with 99.9% reporting satisfaction.
Durable Materials
Durability is another important factor to consider when ordering memorial cards. The cards should be made from sturdy materials that can withstand the test of time. Opt for options such as laminated cards or those printed on high-quality cardstock to ensure longevity and resistance to wear and tear.
Our cards are printed on 350gsm high-quality silk paper with 42mc gloss lamination both sides.
Convenient Ordering Process
In the midst of grieving, convenience plays a significant role in the decision-making process. Look for a service that offers an easy and user-friendly ordering process. Online platforms allow you to customize and order memorial cards from the comfort of your own home, eliminating the need for unnecessary stress during an already challenging time.
Affordable Pricing
While quality is paramount, affordability is also a consideration when ordering memorial cards. Look for a service that provides competitive pricing without compromising on the quality of the cards. Transparent pricing structures and clear information about any additional costs will help you make an informed decision within your budget.
Timely Delivery
When ordering memorial cards, timely delivery is crucial. Choose a service that guarantees prompt delivery, ensuring that the cards are received in time for the memorial service or any other important events. A reliable delivery process will provide peace of mind during this emotionally challenging period.
Additional Services Offered
Some memorial card providers may offer additional services that can enhance the overall tribute experience. These services might include complementary items like bookmarks, or thank you cards. Exploring these options can help you create a comprehensive and meaningful memorial package.
Honoring Different Religious Beliefs
Ireland is a diverse country with people from various religious backgrounds. When ordering memorial cards, it is important to find a service that respects and accommodates different religious beliefs. Ensure that the provider offers a range of religious symbols, verses, and prayers that align with your loved one's faith. At FamilyCards.ie we offer religious and non-religious verses or backgrounds/scenes to choose from.
Supporting Local Businesses
In the spirit of community and support, consider ordering memorial cards from local businesses in Ireland. By doing so, you contribute to the local economy and help sustain small enterprises that understand the cultural nuances and sensitivities associated with memorial services in Ireland.
Ordering the best quality memorial cards in Ireland allows you to honor the memory of your loved one in a meaningful and personalized way. By choosing a service that offers a wide range of designs, personalization options, high-quality printing, and timely delivery, you can create a lasting tribute that celebrates their life.
Frequently Asked Questions
If the video and FAQ did not answer your all questions, please do not hesitate to contact us: